Why DA Techs?
Our wheel repair experts offer you a service that you won't find anywhere else. Unlike your typical garage, we specialise in wheel refurbishment, and have all the tools and expertise to restore your alloys to prime condition in our state-of-the-art facilities.
We can repair diamond cut alloys, apply powder coating or alloy wheel paints in original manufacturer colours, or even refurbish your wheels when serious damage has occurred.
Our unit covers everything, from acid stripping and shot blasting to straightening and torquing your wheels. We'll carry out a buckle removal service, and perform a quality check as standard, giving you full confidence that your wheels are fit for the road.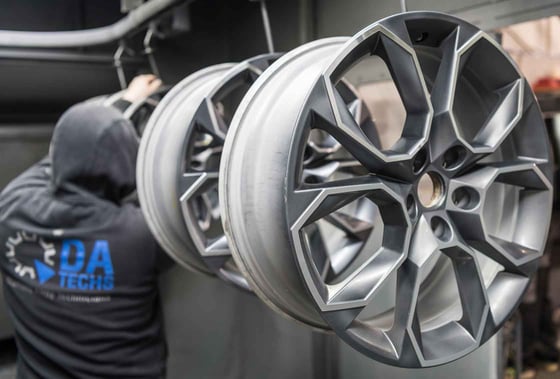 We work around you
When you visit our unit, you'll have a truly unique experience. The professional, friendly team at our new, in-house facility are fully trained and insured, so you can have total peace of mind when leaving your car with us.
Get back on the road, fast
We appreciate that you want to be back on the road as soon as possible. Whatever the issue, our alloy wheel repair specialists are committed to keeping repair time down to a minimum. We even offer an emergency turnaround service should you need it.
Want to book an appointment with our technicians? Speak to a member of our team.
Unsure which service you need? Read on to find out more.
Powder coating service
To keep wheels looking brand new and increase their lifespan, we offer a powder coating service that acts as a shield for corrosion. Once a layer has been added, you're less likely to need our services again anytime soon.
Some of our clients do prefer to use the liquid alternative, but we find that powder coating is an ideal solution if you are after a quick and reliable fix. Our expert technicians can advise on the best fit for your vehicle.
Why choose a powder coating service?
Powder coating is eco-friendly and can be performed by the driver themselves with the right tools. But it is highly recommended that you use a specialist as inhalation of the powder is hazardous to health and requires the proper protective gear. Fully risk assessed and insured, our team are well equipped to carry out the procedure.
We have a selection of powder coating colours and finishes that are designed to showcase your vehicle in all its glory. They include smooth, wrinkled, matte and rough.
For more information about powder coating, why not read our helpful guide?
Diamond cut service
If your vehicle already has diamond cut alloys, then you'll need an alloy wheel refurbishment professional for any repair.
With specialist tools, damage is removed from the alloy and then several coats of lacquer are reapplied. We will then recommend how best to look after your alloys and any aftercare products that can boost their longevity. At DA Techs, we go above and beyond simply fitting, repairing and refurbishing diamond cut alloys.
Transform your vehicle with DA Techs
To retain the sleek image that convinced you to buy your vehicle in the first place, it's important to use a reliable refurbishment specialist for your diamond cut alloys for the best possible results.
Using an under-qualified mechanic comes at a considerable risk of wheel damage. For an agile, all-encompassing service, with a team of professionals widely considered to be the best in the region when it comes to diamond cutting, turn to DA Techs.
Take a look at the four things you should know about the process.
Ready to book your alloy wheel refurbishment? Or still have a few questions? Call 01204 859045 or email info@datechs.co.uk to have a chat with our team. Alternatively, pop into our Adlington unit and we'll do our best to address the problem there and then.
The DATechs Process
SECURE CAR & REMOVE WHEELS
SHOT BLAST ALLOY PRE PAINT
TORQUE TO MANUFACTURER GUIDLINES
See what our customers think...
I had a full set of wheels powder coated in high gloss black, what a fantastic company the took the wheels and had them back when they said they would…
- Ian Foylan
Top quality service from start to finish
- Neil Baron
Refurbed my alloys back in may , Phil went out of his way to help me out, he picked up my wheels along with 4 new tyres I had bought…
- N
Staff very professional and very well run company first class service highly recommend
- Graham Glasgow
Brilliant service and great job on my new black wheels.
- Matthew Atherton
Refurbed my diamond cut/black gloss alloys on my scirocco r inside and out perfectly, talked me through the process and had a tour of the workshop and these guys are…
- Dom
Excellent service and price, excellent finish, I was only without my car for 2 day's. Great job from start to finish.
- Simon Billington
My lovely mini has been once again restored to her former glory thanks to these superb and wonderful people at Datechs in Adlington 👏👏👏 I can't recommend the superb technicians…
- Judy Parmenter
I have used this company for repairs to my alloy wheels three times now over the last two years or so. I cannot fault the service in any way, very…
- Mick Langton
I needed body work and alloy work on my BMW i8, amazing work from the team at Da Techs and Smart Techs this is an art and skill to perfect…
- Darren Murray
Excellent service and very helpful staff, the work was done one day before it was expected and to a great price, highly recommend
- Cameron Littler
Unbelievable service. The DA Tech team was so helpful and friendly. I went to them with my VW Polo GTI that I just purchased and the alloys had been repair…
- Declan Lennon
First class service
- Steve Henson
Very friendly helpful staff and they do a fantastic job. I've had wheel refurbishments in the past and they aren't a patch on these. I highly recommend
- sam Fireman
Second time i have used DA Techs for diamond cut wheel refurbishment. Outstanding levels of customer service & the wheels look better than new. I would highly recommend them for…
- Mark Fieldhouse
Just collected my alloys from the lads at DA TECHS got to say i am impressed. Took my alloys in which we're worse for wear and they have come out…
- Michael Winder
Spoken to phill about having my Octavia vrs alloys refurbished......he is a font of knowledge instilled alot of faith in what they do.....and they do all bolton Mercedes repairs.....what does…
- Simon Johnson
Great service. Top quality work. Highly recommend DA TECHS
- Mick
Everything from booking to picking my car up after the work was stress free, easy and super helpful. I took my Polo GTI in for minor work on 2 alloys…
- Tomos Moore
Amazing job on my Porsche
- Andrew Wren
Just picked my car up today after the alloy refurb and pleased would be an under statement. I'll have to have my car resprayed the work and finish is that…
- Daniel Kelly
Found DA TECHS after having a Very nasty experience with a company who said they were experts in diamond cutting, they clearly were not. When arriving at da techs the…
- Simon Crowe
Got put onto these guys by my insurance company. Picked the car up today and the 3 wheels they repaired looked brand new. Called up out the blue, got me…
- Ben Farmer
Excellent service
- Ravinder Patel
My wheels on my 500 Abarth wanted a total Refurb these guys are a must they are now better than factory cheers guys 👍👍
- Lee Openshaw
Great experience, they explained every step of the way for me and even did a mini tour around the unit, showing me the acid dipping process. Were more than happy…
- Meganmunch
Very professional full of knowledge
- Phil Higgins
Absolutely amazing work,I was being messed around by mobile alloy repairers.was recommended to use this company.i will be using these guys now,as they restore the wheel back to new. Amazing…
- Mohammed Zeeshan
grade one company good to deal with ,they keep to there word no extra costs ,had two wheels repaired on a nissian qashqai amazing quality like brand new wheels for…
- mikk rush
Fantastic job . Polite helpful informative. Surprisingly inexpensive. Top drawer and highly recommended.
- Nigel Hulme
Made up with my wheels, couldn't believe they where able to repair them to the highest standard possible and I didn't even have to travel to drop/collect my wheels as…
- scott
Absolutely brilliant! Had my car back in no time with a great finish! I love them! Thank You so so much!
- Kayleigh Salton
Excellent service. Wheels are now back to showroom finish. Would highly recommend this company for wheel refurbishment.
- Sue Winstanley
Excellent service to a very High standard with quick turn around can't rate these guys high enough if I ever need my wheels fixing or painting again I wouldn't hesitate…
- Andrew Thompson
Had damage to my lease car and needed to have my wheel repaired quickly and to a high standard before giving the car back to the lease company. Couldn't believe…
- Harry Bowers